Weighing Equipment -- Whatever you need to weigh, we at Central Carolina Scale have a weighing scale to fit your requirements. We have an extensive
line up; including industrial items like heavy capacity truck scales to the most accurate lab balances and parts counting scales available.

Because we sell so many scales, we can offer our customers the best prices on almost every model of scale, balance, and load-cell available. Contact us today and we can assist you in finding the best item(s) to fit your need. No matter if it's a standard item or unique application / requirement. Be sure to bookmark our handy Conversion Calculator.
3 Easy Ways to Place an Order or Request a Quote
Browse Our Product line on our site and...
1. Order By Phone: (919) 776-7737

2. Order or request a quote by Fax: (919) 774-1622 or email
3. Use our Online Sales Info Request Form

Products, Sales, Service, & Customer Support
We have been selling, calibrating, and repairing industrial scale and weighing equipment for over 30 years. We distribute equipment throughout the country and offer over 30,000 products (and counting) — the largest selection of quality weighing products available—and the best customer service in the business. Call our knowledgeable customer service/applications support technicians at (919) 776-7737. They are available to help you from 8:30am to 4:30pm EST Monday thru Friday.

No matter what you need -- We have got you covered...
We stock a huge inventory of replacement parts! Are you looking for help servicing your scale and or printer? Need new labels? Our repair service department is factory trained.
MONTHLY SPECIALS
CAS ER JUNIOR Price Computing Scale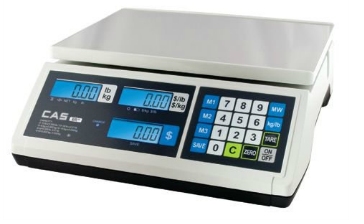 Take all the guess work out of pricing with the CAS ER Jr series price computing scales, a general purpose computing scale for direct sale of commodities in stores such as supermarkets, delicatessens and groceries. Designed for portable use with AC power and built in rechargeable battery, the ER Jr certified scale is ideal for farmers markets, sandwich shoppes, bakeries, candy and coffee shops, convenience stores, produce markets, hardware stores and more. 30 x 0.01 lbs NTEP Legal for Trade
Brecknell DSB Floor Scale System

From basic industrial weighing applications such as shipping and receiving packages, bulk loading, and counting the DSB floor scale system from Brecknell Scales is an ideal and affordable solution. designed to provide you with a durable, accurate and affordable solution to industrial weighing in locations like warehouses. The Brecknell DSB platform system meets the demand for a quality "name brand" scale at a market price that is competitive. Available in various sizes and capacities.
We have scales for everyone. Here's just some of the uses:
Airline baggage scales, Animal scales, Baby scales, Body Fat Body Mass Index, BMI, Analytical Industrial Top Load Balances, Bakery Scales, Barcode printers, Barrel Scales, Batching systems, Cat scales, Check weighing, Conveyor scales, Concrete batching, Crane scales, Data collection & management, Dial scales, Dimensional, Dough weighers, Doctor scales, Dog scales, Drum filling scales, Farm Scales, Food scales, Gram scales, Health scales, Hoppers, Hospital bed, Hostile environment, IS, Intrinsically safe, In-motion conveyor, Jewelry, Laundromat scales, Mechanical scales, Mechanical balances, Monorail, Physician scales, Postal scales, Portion control, Price computing label printing scales, Printers, Quality Control QC, Race Car Scales, Rail scales, Remote Displays, Scale indicators, software, Spring scales, Stainless Steel, Tape printers, Truck scales, UPS scales, Used scales, Washdown units, Weights, Weight kits, Wheel chair, Wheel loader, Weigh In-motion, Wrestling scales and more !
We are a full service scale company. Authorized distributor for various manufacturers including Cardinal, Digi, Doran, GSE, Pennsylvania, Rice Lake and Avery Weigh-Tronix .
Scales we sell and/or service: Aatlas Kwik Weigh, A & D, Acculab, AccuWeigh, Adam, AmCells, Avery Berkel, Avery Weigh-Tronix, B-Tek, Befour, CAS, Cardinal-Detecto, CCi, Condec, CompuWeigh, Chatillon, Datamax, Digi Matex, Doran, Emery Winslow, Epson, First-Weigh, Flex-Weigh, GSE, Health-O-Meter, Healthweigh, IDS, Intell-Lab, Intercomp, Ishida, Kilotech, Kubota, Longacre, LTS, Mettler Toledo, MSI, NCI, Ohaus, Pennsylvania, RLWS Rice Lake, Sartorius, Salter Brecknell, Seca, Star, Sterling, Tanita, Thurman, Tor Rey, Transcell, Troemner, UWE, Weigh-Tronix Ag scales, WeighSouth, Yamato, Zebra Eltron and more!
Load Cells: Artech, Cardinal, BLH, CAS, Celtron, Coti, Coti Global, Epelsa, Flintec, General Sensor, HBM, Interface, Nikkei, Scaime, Revere Transducers, Rice Lake, Vishay Sensortronics, Tedea-Huntleigh, Transcell Zemic and more!